about david reynolds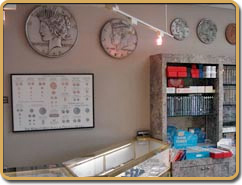 Founded on Central Avenue by Ronald David Spivack and Earl Reynolds Waters, david reynolds jewelry and coin has been serving Saint Petersburg for over 40 years. Quality, integrity and competitive pricing were some of the founding principles of our company and continue to hold through to this very day.
In the 1980's while taking an art-elective jewelry class in high school, Shane Socash was introduced to David Reynolds as the "trusted place to buy your metals" for class. This continued to be a theme while taking jewelry classes all around Pinellas County and completing Jewelry Design and Repair school. It seemed everywhere he went David Reynolds kept being suggested as the place you could trust to do metals business with. This theme continued for Shane's first 8 years locally as a jeweler as he witnessed several other jewelry stores utilized David Reynolds Jewelry and Coin to buy and sell precious metals and jewelry too.
In the year 2000 David Reynolds reached out to Shane Socash and offered him a full-time position as their first full-service jeweler. Over the next 12 years Shane grew the jewelry design and repair department to 4 people all while becoming a Graduate Gemologist from Gemological Institute of America (GIA). In 2012, founders Earl and Ron retired and sold the company to Shane and the business (and great reputation) continues to grow.


Whether you are selling a large coin collection, purchasing the diamond that will bring tears of happiness to her eyes, a simple watch battery installation or a token of your undying devotion, you can rest assured that you will be met with professional, honest personal service that will not be matched
Call or Text Us Today!
727-327-2646
View our privacy policy
here