precious metal bullion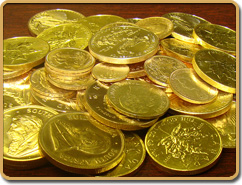 We Also Buy & Sell:
Scrap Precious Metals
Gold Coins
Collectible Paper Money
Call or Text Us Today!
727-327-2646
Platinum, Gold, and Silver bullion for investment and security.

Looking to buy silver, gold, platinum or palladium for investment or security? Unsure of a financial system who's solution to all economic issues is to just print more money? Many experts say owning a percentage of your wealth in gold, silver and other tangible assets is a sound decision. Preparedness is generally a good thing, and this is no exception.
Internet bullion sales. Many websites have popped up selling precious metal bullion. Typically, these sites tout free shipping and competitive prices. Frequently the teaser price they show when looking at their website is based on wire transfer only. They don't accept cash, and credit/debit card purchases come with a surcharge. Another thing to look at is their spot price.
Spot is what the gold/silver/platinum market price is at any given second. Spot fluctuates up and down every three seconds and since online retailers don't purchase bullion and only sell, they typically inflate their spot price by as much as $5 at any given second.
Take a look at your favorite online retailer, then pop onto kitco.com, davidreynoldsjewelryandcoin.com, coinflation.com for a current spot price and you will notice that the retailer's spot price is significantly more. In almost all cases we beat these online retailer's prices for bullion of any type. Best of all, we're friendly, local and we buy back too!
We currently trade in the following bullion:
Gold:
1 ounce American Eagles
Fractional weight American Eagles
1 ounce American Buffalo
1 ounce South African Krugerand
Fractional weight South African Krugerand
1 ounce Canadian Maple Leaf
Fractional weight gold Canadian Maple Leaf
10 ounce refiners bars
1 ounce refiners bars
Fractional weight refiner's bars
All international bullion
Silver:
1 ounce pure silver rounds
2.5, 5, 10 ounce pure silver bars
100 ounce pure silver bars
1000 ounce pure silver bars
1 ounce silver American Eagles
1 ounce silver Canadian maple leafs
Bags of 90% American silver coins
All international silver bullion
Silver dollars, halves, quarters and dimes
Platinum:
Platinum American Eagles
Platinum Canadian Maple leaves
Palladium:
Palladium bullion can be purchased in different forms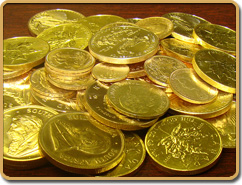 We Also Buy & Sell:
Scrap Precious Metals
Gold Coins
Collectible Paper Money
Call or Text Us Today!
727-327-2646